Monday CRM | A Superhero In Customer Management
Welcome to the world of CRM software! If you're feeling overwhelmed by spreadsheets and sticky notes and you're looking for ways to streamline your business processes, let me introduce you to Monday CRM.
In this Monday CRM in-depth review, I'll explore Monday CRM's project management features, benefits, and pricing options.
Let's dive in!
What is Monday CRM?
Monday CRM is a cloud-based project management software and sales CRM solution designed to empower businesses to manage their projects, sales pipelines, and customer relationships.
It offers many features and functionalities that streamline work processes, enhance collaboration, and drive sales success. Monday CRM acts as a core work management platform, providing businesses with the tools to optimise productivity, improve project outcomes, and close deals effectively.
Monday CRM is a powerful work management platform that combines project management tools and sales CRM functionality.
Monday CRM is not your average project management tool; it's a superhero in disguise. Created by a team of visionaries, Monday CRM combines project management software and CRM functionality into a core work management platform.
With its intuitive interface, robust features, and easy collaboration, it's designed to empower small businesses, sales teams, and project managers in their quest for productivity domination. It provides businesses with a central hub to streamline their projects, manage sales pipelines, and nurture customer relationships.
Pros And Cons
Who Created Monday CRM?
Monday CRM was created by a team of passionate entrepreneurs and software developers who recognised the need for a comprehensive work management solution that integrates project management and sales CRM functionalities.
Founded in 2012 by Roy Mann and Eran Zinman, Monday CRM has rapidly gained popularity among businesses worldwide.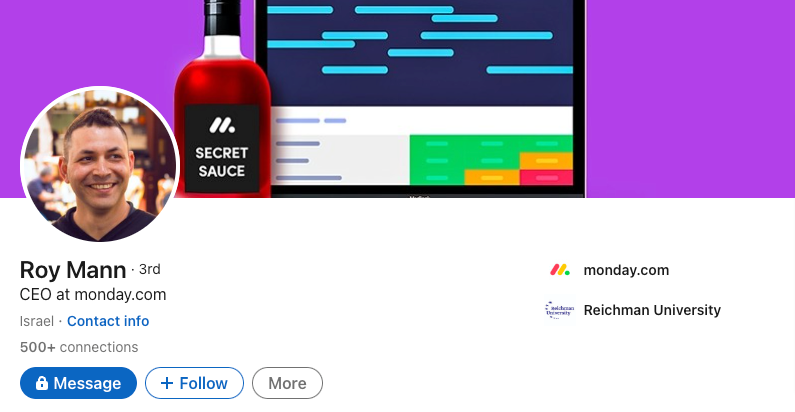 What Can Monday CRM Do?

Monday CRM offers a plethora of features and capabilities that empower businesses to optimise their work management processes.
Let's dive into the key functionalities of Monday CRM:
Track communication with your customers
Fully sync your emails, and get notified automatically when a lead opens or replies to an email.
Performance tracking made easy
Keep track of your pipelines, targets, and team performance. Access features that increase visibility, such as custom dashboards that instantly report your deal progress, sales figures, and team performance.
Organise your data in one place
Bring over all your existing leads, contacts, and accounts from Excel or through an API directly into Monday to boost your CRM functionality.
Win back time with no-code automation
Use your own automation to do the manual work that steals selling time.
Activity management
Log any lead or contact-related activity like calls, meetings, notes, and more to know where communication stands.
Integration Capabilities
Monday CRM integrates with popular apps and platforms, allowing businesses to leverage existing workflows and tools.
Reporting and Analytics
Monday CRM provides robust reporting and analytics capabilities. With sales analytics and advanced reporting features, businesses can make data-driven decisions, identify areas for improvement, and track key metrics.
Security and Collaboration
Monday CRM prioritises data security and offers enterprise-grade security measures to protect sensitive information.
Monday CRM Pricing
Now, let's address the elephant in the room—pricing. Monday CRM offers a range of pricing plans to suit different needs and budgets.
Basic Plan
Suitable for small teams and startups, this plan starts at $10/month and includes essential project management and CRM features.
Standard Plan
Ideal for growing businesses, this plan starts at $14/month and offers additional features such as time tracking, integrations, and advanced automation capabilities.
Pro Plan
Designed for larger teams and businesses, this plan starts at $24/month and provides advanced project management tools, customisation options, and priority support.
Enterprise Plan
Tailored for enterprise-level organisations, this plan offers advanced security, a dedicated customer success manager, and custom solutions. Pricing is available upon request.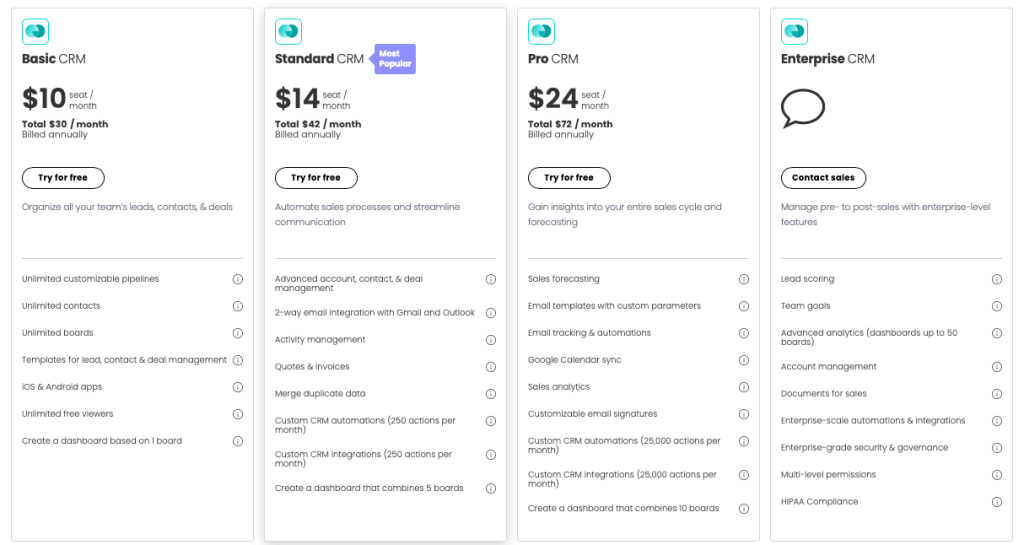 User Experience

Now, let's talk about the interface and user experience because, let's face it, if a tool isn't easy on the eyes and a joy to use, it's as useless as a superhero without powers.
Monday CRM nails it in the user interface department. Its interface is so user-friendly and visually appealing that you'll feel like you're gliding through your tasks effortlessly.
And don't worry, even if you're not the tech-savviest hero in the room, Monday CRM's intuitive design ensures you'll become a pro in no time.
Its customer service support is also top-notch, providing fast responses and helpful advice when needed.
How To Use Monday CRM
It's easy to use. The intuitive user interface makes it a breeze for novice users.
Create your account and sign in. Once you're signed in, you can start creating projects or documents.
Step 1
Project Creation – Start by creating a new project in Monday CRM. Define the project's name, goals, and timeline. Assign team members and set project permissions.
Step2
Task Management – Break down your project into smaller tasks. Create tasks, assign them to team members, set due dates, and add relevant details and attachments.
Step3
Collaboration and Communication – Foster collaboration by using Monday CRM's communication features. Leave comments, tag team members, and have discussions within task cards.
Step 4
Workflow Customisation – Customise your workflow to match your team's unique processes. Create custom columns, status labels, and labels to track progress and categorise tasks.
Step 5
Automation – Utilise automation to streamline repetitive tasks and save time. Set up automations to trigger actions based on specific events or criteria, such as sending notifications or updating task statuses.
Step 6
Mobile Access – Stay connected on the go with the Monday CRM mobile app. Access your projects, update tasks, and collaborate with your team from anywhere.
Once you've set up your board for the sales team, you can manage the process effortlessly, identifying leads and pipelines accompanied by clear actions.
Monday CRM Case Study
"monday.com is ingrained in our work-life and has become essential at Nissan."

Dustin Searle | Maintenance Engineering Technologist, Nissan North America
What I like and dislike about Monday
Like:
It's easy to use. With its intuitive interface, you don't need to be a tech guru to get up and running with Monday CRM. Plus, the visual dashboard gives you an instant snapshot of how your business is performing.
Monday CRM helps you track and manage all your customer relationships, from lead generation to order fulfilment.
It's cost-effective. Monday CRM is available at an affordable price that won't break the bank.
Dislike:
Limited customisation options. While Monday CRM offers good basic features, it may not be suited for businesses that need extensive customisation.
Potential loading times. Reports and data can take a while to load in Monday CRM, which can be frustrating for users who are used to faster-loading speeds. That said, with each update, this issue becomes less of an issue.
Support

Monday CRM offers exceptional support and service to its users. Their dedicated customer support team is readily available to assist with any inquiries or issues that may arise.
Users can access support through various channels, including live chat, email, and a comprehensive knowledge base.
Monday CRM also provides resources such as video tutorials, webinars, and community forums to help users maximize their usage of the platform. With prompt and reliable support, Monday CRM ensures that users have a positive experience and receive the assistance they need to leverage the software for their business effectively.
Monday CRM Alternatives
Hubspot

HubSpot is a revolutionary platform that packs a punch when it comes to marketing and sales. It's like having a trusted advisor and a marketing wizard rolled into one.
With HubSpot, you can access a treasure trove of tools and resources to skyrocket your marketing efforts. From lead generation to email campaigns, it has you covered. Plus, its user-friendly interface makes it a breeze to navigate, even for beginners.
But HubSpot doesn't stop at marketing. It's also a sales powerhouse, helping you manage contacts, track deals, and close with finesse.
With its informative insights and engaging features, it's a game-changer that will transform your marketing and sales strategies. Get ready to take your business to new heights with HubSpot by your side.
Zoho CRM
Zoho CRM is a powerful tool that puts the "customer" back in "customer relationship management." Imagine a personal assistant who knows exactly what your customers need and helps you deliver excellent outcomes.
With Zoho CRM, you can streamline your sales processes, track leads, and manage customer interactions with ease.
It also offers a range of features to enhance your business operations, from email marketing to workflow automation. It's like having a Swiss Army knife of CRM tools.
What sets Zoho CRM apart is its user-friendly interface and customisable options. You can tailor it to fit your unique business needs, making it feel like a CRM that was built just for you.
Overall, don't discount Zoho CRM. Its informative insights and engaging features empower you to build strong customer connections and help drive growth.
Wrike
Wrike is a dynamic project management tool that has been said to revolutionise the way teams collaborate and accomplish their goals.
With Wrike, you can easily plan, organise, and execute projects efficiently. It offers intuitive features like task management, real-time collaboration, and customisable workflows.
It also integrates seamlessly with other tools and platforms, enhancing your team's productivity and collaboration. It's like having a versatile Swiss Army knife for project management.
Pipedrive
Pipedrive is a sales-focused CRM designed to streamline your sales process and keep you organised and on top of your game.
With Pipedrive, you can easily track leads, manage contacts, and visualise your sales pipeline with clarity. Its intuitive interface and customisable features make it a breeze to use, empowering you to focus on what you do best: selling.
It offers insightful sales analytics, collaboration tools, and seamless integrations to supercharge your sales efforts.
Pipedrive is a great companion for sales professionals looking to boost their productivity and close more deals.
Agile CRM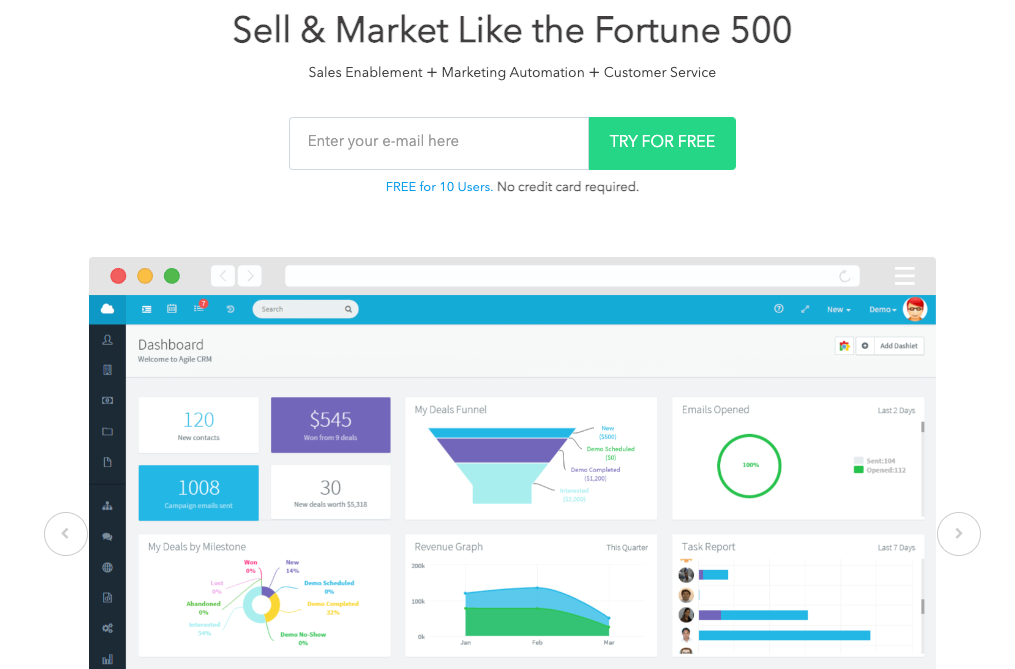 Agile CRM is a versatile customer relationship management platform that empowers businesses to streamline their sales, marketing, and customer service efforts.
With Agile CRM, you can effectively manage leads, automate marketing campaigns, and provide exceptional customer support, all in one place. Its intuitive interface and robust features make it easy to navigate and customise to fit your unique business needs.
Agile CRM is a good alternative for businesses wanting to take their customer interactions to the next level.
The Bottom Line
In this Monday CRM in-depth review, we've discoverd that this is more than just a CRM solution. With its comprehensive suite of project management tools, sales CRM functionality, intuitive user interface, and extensive customisation options, Monday CRM empowers businesses to streamline their processes, boost productivity, and drive sales success.
Whether you're a sales team, project manager, or small business owner, Monday CRM offers the features and flexibility you need to supercharge your work management efforts. Give Monday CRM a try and unleash your work management superpowers today!
In the vast universe of project management tools and sales CRM software, Monday CRM shines as a true superhero. Its seamless integration of project management and CRM functionalities, user-friendly interface, and robust feature set make it a serious option as a productivity weapon for small businesses, project managers, and sales teams.
My Take On Monday CRM
Monday CRM is my go-to project management tool and it's the one I feel the most comfortable with using on a day-to-day basis. And while there may be a slight learning curve, and the pricing might not fit every budget, the benefits it brings to the table far outweigh the cons.
So, if you're ready to bid farewell to the chaos of scattered tasks and disjointed communication, Monday CRM might just fit your needs perfectly.
If you're considering an ideal B2B tool for a small business, Monday CRM is a great choice, particularly as it's part of the Monday suite of products, so it's very easy to integrate and manage your entire business management from Monday.
So is it a good investment? Yes. This company is going from strength to strength – I just wish I had invested in shares when they were cheaper!
FAQ
What are the disadvantages of Monday CRM?
Monday's pricing is based on a per-user model with differentiated pricing tiers. When users with complete collaboration permission are added, it results in additional charges. Also, the more advanced features are available in higher-priced plans, which might not be suitable for small to medium-sized businesses.
What are the limitations of Monday com?
To ensure their board performs well, they have set a limit of 10,000 items per board for all plan types except for Enterprise, where the limit is 20,000 items.
Can Monday be used as a CRM?
The CRM platform from Monday.com assists teams in monitoring customer information and handling the entire sales process through customisable automations that eliminate time-consuming manual tasks. By using recipes, you can set up integrations quickly and easily to automate actions related to your sales pipeline.
How expensive is Monday as a CRM?
Monday.com offers paid plans starting at $8 per user per month when billed annually. However, since there is a minimum of three users per membership, the total cost will be at least $24 per month when billed annually. The most popular plan is the Standard plan which costs $10 per user per month with a minimum of three users.
Are you using Monday CRM already? Let us know in the comment section below – We'd be eager to read about your experiences with this powerful tool.