Synthesia Review – How To Create AI Videos (2023)
If you're looking to create explainer videos or marketing videos in a matter of minutes, then Synthesia.io could be what you're looking for.
Now there was a time that if you wanted to create professional videos, you would either need to have some video editing skills or outsource the project to include an actor, studio, and visual and audio equipment.
However, with Artificial Intelligence (AI) software evolving all the time, that's no longer necessary, as everything you need to create videos is available within the Synthesia studio.
In this How-To Guide and Synthesia IO review, we'll look at how to create videos using this platform to create video content using artificial intelligence.
And the best part is that you don't need to possess any video editing skills! In this Synthesia IO review, we'll look at the pros, cons and features of this AI platform.
Let's dive in!
What is Synthesia?
This software allows users to create videos using augmented reality easily. Whether it's training videos, marketing videos or general video footage, Synthesia IO is an ideal option enabling you to produce high-quality videos.
An AI tool that allows for creating custom videos with avatars is a great way to ensure that your video stands out. With Synthesia, you can choose from various characters and have them featured in your videos.
The Synthesia video generation platform is a great AI tool for creating professional videos without showing your face.
If you're a blogger, Synthesia allows you to create your own AI video and personalised videos with AI voices (or even your own).
Create Professional Videos
The platform offers Custom-made AI avatars: With these custom avatars (i.e., digital actors), you can bring your script to life without having to be in front of the camera yourself. No more excuses for being shy!
Synthesia uses AI simulation algorithms to create AI videos – eliminating the need for studio equipment, cameras, etc. Synthesia gives a user avatar option that creates stunning videos depending on their requirements.
This software will help you to create marketing videos and video presentations quickly and easily, saving you and your organisation time and money.
Who is Synthesia created for?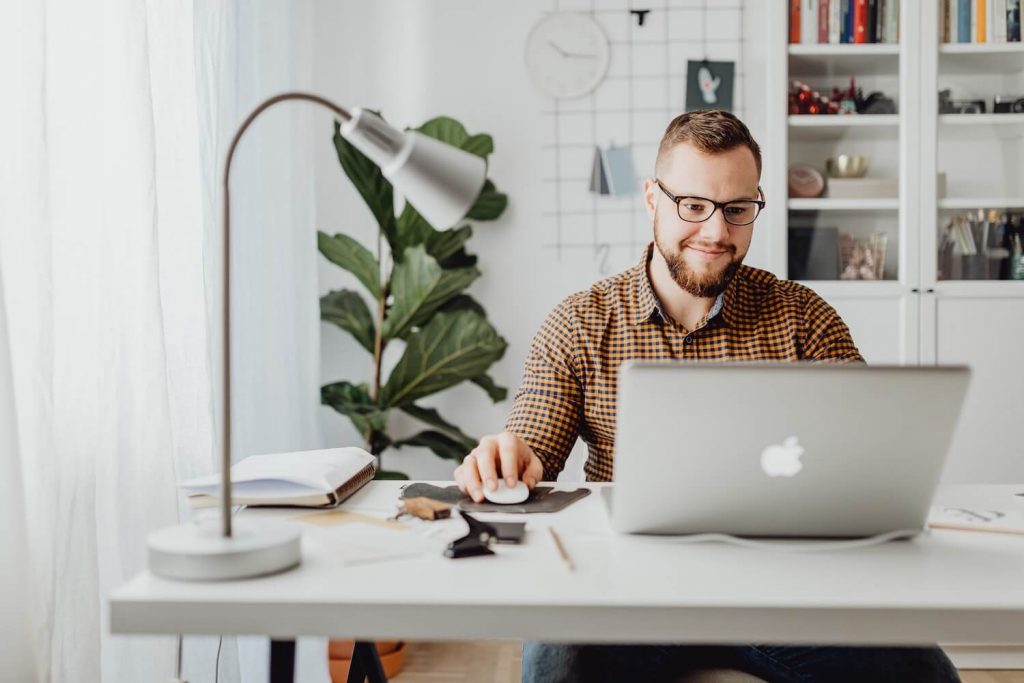 It's an innovative video production software designed for marketers who don't like videography!
It's designed to be used by various individuals and businesses. And if you're looking to create professional-looking videos but either lack the time or don't want to appear in a video yourself, it's an ideal solution.
Whatever your industry, or the size of your organisation, Synthesia IO has a solution for you – and at a fraction of the price compared to traditional video creation.
Below is a list of the different video templates and video content using Synthesia IO.
Training Videos
How-to
Multi Slide Videos
Recruiting
Product Demo Videos
High-Quality Marketing Videos
Customer Onboarding
Promotional Videos
Product Marketing Videos
Sales Enablement
Create Explainer Videos
YouTube Videos
Social Media Videos
Product
Sales
Marketing
Human Resources
Customer Support
IT Operations
Learning and Development
IndustrySoftware
ServiceMedicalResearch
Financial Services
Construction
Retail
Design
Education
Manufacturing
Marketing
IT Services
Law practice
How To Create AI Videos With Synthesia
Synthesia is simple, with no prior video editing skills needed to create compelling video content. This powerful video creator can produce AI-generated content for instant download.
Simply send your scripts to the website and let the Synthesia video creator do the rest – it's that easy! This powerful video creator can produce AI-generated content for instant download.
The editor allows you to edit your video script, change the language, add background music to your content, and select your custom avatar. On top of that, you can use the Synthesia studio to record yourself and the text-to-speech function to personalise the video creation process. I also like that the editing studio is beginner friendly, making it even easier to create professional videos.
With Sysnthesia's AI system, you can create stunning videos in just a few clicks!
Choose a free video template to get started.
You can also start from scratch if you prefer.
Upload your video assets to Synthesia io.

These could be photos, a video script or music tracks.
Choose your editing tools.

Synthesia IO has a range of tools available to help you create the perfect video, including custom backgrounds, an AI avatar (your own avatar or custom avatar), and background music.
Add text or graphics as needed.

Synthesia IO also offers various graphics and text templates for creating video content.
Preview your video.

Ensure it looks great and is exactly how you want it.
When you're happy with the preview, render your video and you're done!

Synthesia IO offers various output formats for easy sharing or use.
Synthesia IO Pricing
When you join Synthesia AI's Studio membership program, you gain access to an incredible range of video content for one incredibly low monthly fee.
With unlimited videos at your fingertips for only $17.25 per month, the possibilities are virtually endless!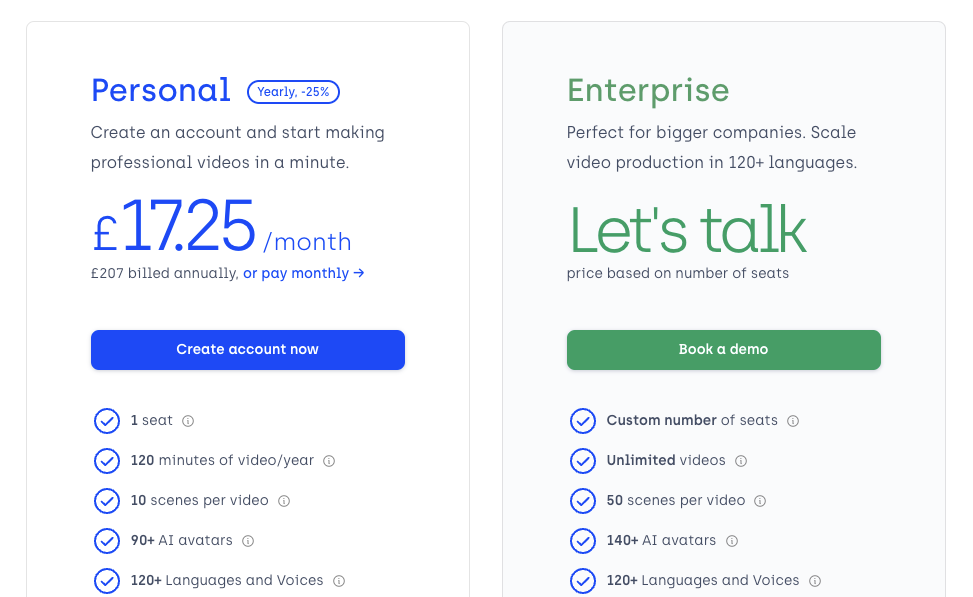 Synthesia IO Features
For those looking to automate their AI video business, the Synthesia Studio suite has various features to make it possible. Explore what this groundbreaking system is capable of and discover its key highlights!
AI Avatars
In an age where video marketing is crucial for business growth, Synthesia's custom avatars couldn't have been timelier.
This function allows you to pick an AI avatar from the 50+ pre-installed avatars or create a personalised avatar. Custom avatars come in handy when you want to generate customised videos.
Harness the power of Synthesia's AI video generation platform and generate videos with realistic AI avatars in over 60 languages.
Take advantage of the robust template library, convenient screen recorder, vast media content repository, and more to complete your projects faster!
Unlock professional-level voiceovers without the need for a microphone!
Step up your audio game without breaking the bank. Easily edit voiceovers and add background music with the same ease as a document to create professional and consistent recordings. No need for costly equipment or contracts with voice actors!
Templates
Unlock an array of customisable video templates and guarantee a perpetual, cohesive identity throughout your content. You can modify or upgrade your videos whenever needed.
With more than 50 stunning pre-designed templates, you're sure to find the perfect look for your project.
Showcase your unique brand identity by uploading your assets.
Enhance the look and feel of your website with personalised templates.
Video Editing
To top it all off, Synthesia's Editor features an intuitive and user-friendly interface for efficient editing. You can easily trim, adjust colours, crop or scale your videos, and more, all within Synthesia's editor.
Synthesia Academy
Synthesia Tutorial Academy is the perfect place to learn about AI video creation and gain access to valuable resources.
With weekly live interactive events, Synthesia Academy provides a platform for expert information sharing and networking.
Synthesia Integrations
Synthesia integrates with loads of other digital software.
Whether learning and development, CRM platforms, education software, marketing, sales or customer support, Synthesia offers a great choice for combining integrations, giving you more control over your campaigns.
Notable platforms include Monday, Notion and Squarespace.
Synthesia Alternatives
If you're willing to invest, Rephrase AI is your go-to video creation alternative. Utilising their professional human avatar technology, you can quickly create professional videos based on your chosen script.
The creators behind this AI video creation technology were featured on the Forbes 30 under 30 Asia list, signifying that it will be a force to reckon with in the coming years. Without question, this business is one for us all to keep an eye on.
Rephrase AI is the perfect tool for crafting marketing strategies that captivate your customers, as it permits you to generate digital avatars of brand ambassadors.
Additionally, tailor-made ads can be crafted specifically for particular clients by creating customised AI videos with appropriate background music that suits the client's brand.
Unlike Synthesia, Rephrase AI is a video creation platform dedicated to creating digital facsimiles of real people – politicians, celebrities, entrepreneurs and more. But it's not just for the famous; entrepreneurs to CEOs can create personalised messages for their organisations, whether it's product marketing videos, current clients or employees.
What I really like about this platform is the quality of its AI infrastructure; you instantly notice that the AI presenter you choose for any project is superior in quality compared to others in this article.
So what's the catch? Well, unlike other AI video platforms with a static pricing system, Rephrase AI allows you to customise your plan according to the specific needs of your business, but you'll need to contact them first.
When writing this review and contacting the sales team, it's safe to say that you'll need to start with a minimum of $100 to access their basic package.
And yes, I know this is a Synthesia 'How-to" combined with a Synthesia IO review, but you'll notice the difference by watching the demos on both platforms.
Don't get me wrong, for the money, Synthesia rocks, but if you're serious about crafting studio quality AI content, it's worth considering Rephrase AI.
In 2021, Elai IO launched its AI-powered video creation platform that assists users in creating professional videos without needing expensive camera equipment or external tools. With over 25 custom avatars available through this innovative technology, nothing can stand between you and crafting top-notch, text-to-speech videos!
You can create many different types of video content, such as explainer videos, online classes, real estate listings, dubbing projects, cartoon avatars and AI news creation. And you don't have to use human characters either – why not create an avatar mascot that looks like you and speaks your dialogue? With this technology at hand, the possibilities are endless!
Moreover, you can use translation features to transform your blog posts into 65+ languages and create stunning videos with a live presenter.
Elai.IO Pricing
Colossyan is not just an AI video generator with avatars; it also gives you many professional editing tools like changing fonts and avatars per slide, adding background images, music selections, video templates, shapes and animations, and transitions.
Moreover, with Colossyan, you can instantly turn your PowerPoint and PDFs into personalised videos. Plus, the platform provides access to millions of royalty-free images and videos from Pexels that you can use to customise them even further!
In addition, it operates as a text-to-speech program, allowing you to create videos with only your voice without selecting an avatar.
How To Make Money With Synthesia.io
In this Synthesia IO review, Have you considered launching a side gig or even taking the plunge and starting your own business? If so, why not create custom videos for other companies with Synthesia IO? Not only is this an excellent way to monetise your skillset, but it has the potential to be very lucrative.
Here are some possible services you could offer:
Create compelling marketing videos to showcase a product's features and capabilities.
Harness the power of social media to create impactful ad campaigns that engage your target audience and drive conversions.
Craft helpful instructional videos that teach viewers how to do something.
Harness the power of video testimonials to boost a business's credibility and trustworthiness.
With organisations wanting to produce more video content, there is no short demand for such a service, so realistically charging anything from $600+ for stellar videos would be a reasonable cost to a client.
With a creative mindset and hard work, this tool presents numerous opportunities to generate substantial income. So start thinking of ways to maximise your earning potential today!
Synthesia Customer Support
Customer support with Synthesia is a little limited as there's no direct helpline to call. However, you can message them, and they will respond within 24 hours.
Although live chat and telephone customer support may not be available at this time, an excellent selection of resources is available.
Synthesia Academy
The Synthesia AI Academy is a great resource for learning about Synthesia's artificial intelligence technology.
Training Videos
You'll find videos, tutorials, and courses covering Synthesia's AI capabilities and its applications.
You can also find resources on how to build Synthesia-powered projects and information on Synthesia's upcoming products and services.
The Synthesia AI Academy also offers free and paid courses to help you become an AI expert.
Case Studies
Many organisations have taken advantage of Synthesia's platform, here are just a few of their case studies.
Synthesia IO Review Summary
If you consider where AI video content creation was just a few years ago, this tech has come a long way in that time.
For an affordable monthly subscription price, Synthesia is a competent video maker, offering a user-friendly AI video creation tool. Creating personalised videos doesn't require prior knowledge about video editing.
While writing this Synthseia IO review, I've found just how far AI video technology has evolved in a relatively short time over recent years. And for me, Synthesia offers tremendous value and is pretty easy to use. However, there is a slight learning curve, especially if you want to accomplish technical stuff like looping the background video.
For the price, you have exceptional audio quality, advanced video features and competent studio capabilities with this clever software, and it's one I would recommend to entrepreneurs and small business owners.
FAQ
Does Synthesia IO cost money?
Synthesia IO starts at $17.25 per month based on a monthly subscription plan. 
Is Synthesia AI good?
Yes, With Synthesia IO, you can effortlessly construct professional-grade videos for your training, corporate communications, customer onboarding or marketing needs – all the while rapidly and with ease. Take advantage of this great software to create high-quality visuals without spending too much time on it.
What does synthesia IO do?
Synthesia IO allows you to turn a text script into a polished video presented by a professional actor in just minutes.
How long can a Synthesia video be?
Videos can be up to 10 minutes long. We are constantly adding more accents and voices to the platform. With Synthesia you have out-of-the-box access to a full selection of our presenters.
If you're currently using Synthesia IO or any other AI video creation software mentioned in the article, we'd love to hear about your experience.