Rank Your Content From The Start
"Content is King" was coined by Bill Gates in 1996, and today, online content remains as prevalent as ever, and if you're looking to improve your writing skills with a tool that will help enhance your content, you should consider Jasper.ai.
With Jasper.ai, you can craft excellent quality content that will propel your website to the top search engine rankings and draw more readership. All without breaking the bank and having to pay a copywriter.
What is Jasper AI?
Jasper.ai is a tool designed for content writers to produce high-quality content. in this Jasper ai review, I'll go through each element of what this state-of-the-art tool offers and how it can generate AI content for entrepreneurs, agencies and seasoned marketers.
Jasper is one of the best AI tools available, focusing on advertising copy, including blog posts and website content. As with every AI content generator, it's necessary to verify accuracy. Jasper.ai does write well and very well – although it can depend on your industry and niche regarding the quality of results you'll receive. Using the Jasper AI tool is a cost-effective solution compared to hiring copywriters.
I use Jasper AI software as my primary resource for writing content and used Jasper to help write this review!
So let's take a closer look at this Jasper.ai review 2023.
Jasper AI – An Overview
Jasper.ai, formerly known as Jarvis, went through a re-branding exercise in 2022 due to Disney raising an issue with its Marvel movie Iron Man films and the use of Tony Stark's AI assistant, JARVIS. That aside, with Jasper AI, you can craft excellent quality content that will propel your content to the top search engine rankings, drawing more readership.
Powered by the latest Artificial Intelligence technologies that allow for sophisticated semantic and natural language processing, the Jasper ai app enables it to create unique and engaging content.
Jasper AI can also generate targeted content based on specific topics and industry trends, making it a powerful tool for any content writer.
Jasper is intuitive and easy to use. All you need to do is provide Jasper ai software with a few keywords, and it will generate content in no time. Jasper AI also has advanced features like automated grammar and spell check, ensuring that your content is free of errors or typos.
How does Jasper AI work?
In this Jasper AI review, we'll look at the many elements of the platform on offer and how Jasper can generate AI content using artificial intelligence to create human-like text to write blog posts, compelling copy for ad campaigns, social media posts, marketing emails, and even long-form content such as blog posts, articles, etc.
Jasper is an expert in creating persuasive copy and offering blog post topic ideas to aid you in crafting blog posts that rank highly on search engines. It has read almost all of the internet and produces only original, non-plagiarized content.
Done right (and with a little bit of practice), it's possible to create blog posts with high-converting content in less than ten minutes.
Who Created Jasper AI?
Dave Rogenmoser is an accomplished entrepreneur who has earned a strong reputation as the CEO of Proof, a leading agency.
Dave has always been dedicated to finding creative solutions for challenging issues. His ambitious soul resulted in the collaborative establishment of Jasper AI—a cutting-edge tech firm focused on machine learning and artificial intelligence.
Dave knew he could not succeed independently, so he hired Austin Distel as his chief marketing officer. Dave and Austin formed the beginnings of the Jasper team and have been working hand-in-hand to develop Jasper AI into an industry leader for years.
These days, the team at Jasper AI is composed of more than 80 talented individuals, including Dave Rogenmoser, CEO, John Phillip Morgan, CFO and CEO Chris Hull.
Who Is Jasper AI Made For?
As you will see when reading this Jasper AI review, this tool is perfect for anyone who aspires to elevate their content creation process and augment their income.
Whether you're a neophyte taking their first steps into the digital marketing world or an experienced professional seeking to boost their SEO traffic, Jasper can assist in realising your ambitions.
Contrary to AI-driven content generation tools, Jasper stands out by using actual data and human input to produce magnetic material. Whether you're looking to write blog posts, articles, landing pages or any long-form content, Jasper makes it easy to do all of these and can be used for various disciplines within different industries.
Content Creators: Captivate your audience with the help of The AIDA & PAS framework in social media videos and advertisements. Harness this powerful tool to draw viewers into your message and create maximum impact!
SEO Experts: Strengthen your website's visibility and boost the Google search rankings by creating content that contains relevant, targeted keywords for optimised SEO.
Marketers: Unleash your sales potential using Jasper's advanced automated copywriting technology to create high-converting content for landing pages, email sequences and more. Whether you are trying to set up a brand new online enterprise or take your existing marketing campaigns further, the features offered by Jasper AI will help you accomplish your objectives quickly and effortlessly!
Bloggers: If you're looking to write SEO-optimised blog posts from scratch, Jasper offers a blog post outline template and other features, such as a blog post title, blog post intro paragraph and blog post topic ideas. This enables the user to create long-form blog posts as part of its AI learning content creation ability to craft compelling blog posts that rank with their powerful long-form editor and boss mode.
YouTubers: Captivate your audience with Jasper's commands. Generate unique titles, establish compelling video descriptions and brainstorm creative concepts for your YouTube videos!
Top benefits of Jasper AI
Jasper AI brings a wealth of benefits to those who use it. It can quickly analyse large datasets and identify patterns that could otherwise go unnoticed. This helps companies make informed decisions more efficiently, allowing them to take advantage of opportunities faster.
In addition, Jasper AI can understand natural language, meaning your team can ask questions in plain language and get meaningful responses in return. This reduces the need for manual, data-intensive processes, saving time and money.
Finally, Jasper AI is designed with scalability, meaning it can adapt to changing needs and keep up with your organisation's growth.
Jasper AI Features
Jasper AI makes copywriting a breeze for users by leveraging the cutting-edge capabilities of natural language processing and machine learning.
Whether you're working on an academic paper, implementing a cold email campaign, or writing a blog post, this remarkable AI copywriting program is an ideal partner to overcome writer's block.
Jasper offers a revolutionary way of creating content online with its user-friendly interface and efficient user experience. It is sure to transform the writing process!
To help you achieve more, let's explore the functions of Jasper AI and take advantage of its handy templates.
Best Features of Jasper AI
Unleash your creativity and compose vibrant blog posts and stories.
Craft engaging social media posts that captivate your audience.
Jasper provides unique and custom-crafted pieces of content.
Create captivating, persuasive content for landing pages.
Craft fascinating and comprehensive articles that will engage readers.
Make your content stand out with Content Improver.
Compose compelling emails with irresistible subject lines.
Craft compelling scripts for captivating videos.
How much does Jasper AI cost?
Jasper AI offers various pricing plans that are tailored to meet any budget. The Starter plan is cost-efficient, starting at only $29/month.
If you need more words per month, upgrade your plan to $399+ and receive a 320K word limit each month. Plus, if you exceed the word count of 5k in one month, Jasper AI also provides an additional bonus pack worth $10 for 5000 different words.
Starter Plan: $29/mo – $399/mo
The Starter plan is the most cost-efficient, starting at only $29/month and giving you 20,000 to use monthly.
If you need more words per month, upgrade your plan to $399+ and receive a 320K word limit each month. Plus, if you exceed the word count of 5k in one month, Jasper AI also provides an additional bonus pack worth $10 for 5000 different words.
The Jasper Starter Plan is great for:
Composing engaging headlines, descriptions for posts, etc.
Boss Mode: $59/mo -$600/mo
Boss Mode offers an array of pricing plans, starting at just $59 per month. This package provides a minimum of 50,000 words a month, but you also have the option to extend this with bonus word packs.
Jaspers Boss Mode enhances your writing experience and is what I currently use.
Locking Jasper Boss mode allows you to write 5x faster and have everything you need.
Jasper AI can write ebooks using Boss Mode and blogs and articles. So, if you're on the hunt for a plan to craft comprehensive reports, narratives, ad copies and beyond – Jasper Boss Mode is exactly what you need.
The Jasper Boss Mode is great for:
For bloggers and website owners who strive to compose total posts.
Affiliate marketers searching to create product reviews, including Amazon item descriptions.
Aspiring authors who dream of writing stories, novels, and more.
Anyone striving to craft comprehensive and top-tier content.
Jasper For Businesses – Enterprise
Suppose you need an advanced content-writing solution for your business. In that case, Jasper Enterprise provides a platform for your team or freelance writers particularly helpful if you have more than 10 members contributing content.
Here's what you get when you purchase the Enterprise boss mode plan:
A success manager is available to assist you with your content.
Fast and highly adaptive support.
Introduce new team members to your organisation with a Zoom onboarding session.
The capacity to add over 10 users.
Jasper AI Pros And Cons
Even though Jasper AI software is blazing a trail as one of the best AI writing tools out there, this kind of automated technology is still relatively new – so it's not perfect. However, what it does do very well is the following:
Pros Of Jasper AI
Automatically generates blog posts at speed compared to manual writing.
Unlock SEO potential with their comprehensive SEO academy.
Delivers original, high-quality content with no plagiarism.
Jasper AI is proficient in translation spanning 25+ languages.
Access over 50+ AI templates.
An intuitive platform means no steep learning curve.
Seamless collaboration between numerous team members.
Multiple integrations – including Copyscape, SurferSEO, and Grammarly
In general, the software is well designed and, with the features above, makes this a worthwhile investment and is transforming the way we write content.
That said, although there is continuous innovation, there are a few negatives to be aware of:
Cons Of Jasper AI
It is essential to double-check the facts of the generated content, as dates and specific details may need to be updated.
The generated output needs to make more sense in a few scenarios and requires further manual revisions.
A subscription is necessary on a monthly or yearly basis to access the full features.
Unfortunately, a native WordPress integration is unavailable.
If Jasper AI is to continue being competitive in an ever-growing AI-generated content space, it must update its platform. Having to edit content and double-check for grammatical errors manually, there's a fair way before Jasper AI can pass off actual writing content as if a human wrote it.
The Jasper AI pricing represents the technology, which can be costly when scaling your operation.
Templates
You can open up a world of previously unavailable content with all the templates available in Jasper AI.
When you explore Jasper, you'll discover the one-of-a-kind content it can generate. Here are a few of its impressive capabilities:
Craft fully optimised blog posts that will put your content at the top of search engine results.
Speed up your content production with their keyword intent matching paragraph generator tool, enabling you to deliver compelling product information in no time.
Craft captivating product descriptions that tell a story and capture the attention of your target audience.
Stand out on social media platforms with captivating descriptions tailored to YouTube, Twitter and Facebook.
Leave your readers with a thought-provoking last paragraph
Develop engaging email titles and messages that captivate your subscribers.
Unlock the power of over 50 stunning, interactive templates to create any content you desire.
Regardless of the industry or task, Jasper AI is a one-stop solution for any business owner or content creator. You select your desired template and let Jasper do all the work – it's that easy! With so many businesses relying on automation to streamline their processes, why not jump aboard? Let Jasper be your go-to resource for getting things done efficiently and effectively.
Paragraph Generator
Jasper AI's paragraph generator is revolutionary for those seeking to quickly and easily create content. Simply provide a topic and keyword to put it into action, then let this innovative software take the reins! It will deliver an impressive paragraph with a seamless flow from start to finish, ensuring your message resonates with anyone who reads it.
AIDA Framework
Every copywriter is familiar with the AIDA framework – Attention, Interest, Desire and Action. If you still need to become familiar with this powerful tool for optimising web page performance, it's time to add AIDA to your arsenal!
Utilising the AIDA framework, you can create a robust copywriting sales funnel that will guide your customers from discovering your product/service to finally converting into paying customers. This formidable approach will captivate and engage with your readers or viewers, effectively driving them towards taking action!
Content Improver
Do you ever feel stuck in a creative rut, finding your content dull and uninspiring? The Content Improver template is designed to help free you of that burden.
Its Jasper AI feature will analyse your work and provide feedback on how to make it more captivating! It's almost as if having an army of copywriters at the ready, always offering guidance and helping elevate your material!
Product Description
Crafting captivating product descriptions can be the distinction between a successful launch and an abysmal failure.
Why is creating compelling product descriptions so important? First, they allow customers to comprehend your products' features and advantages. Secondly, they entice people to take an interest in them. Lastly, compelling descriptions tend to lead to increased sales.
Use this template to ensure that you are crafting superior-quality content for each product!
PAS Framework
Utilising the PAS framework is a compelling way to ignite interest in your product or service, just like its predecessor AIDA.
If your goal is to increase sales and conversions, this copywriting template allows you to highlight a potential issue that your audience may need to be aware of. Once you've identified the problem, emphasise how pressing it is so they feel an urgency for resolution. Finally, provide them with YOUR product or service as the solution – an efficient approach!
Blog Post Topic Ideas
If you desperately need blog post ideas, this template is here to save the day! Don't struggle with a blank document; never worry about what content to write again. With its life-changing abilities, our Jasper AI tool will help you develop engaging topics that are both trending and interesting – so your posts become guaranteed hits. Don't struggle any longer – find new blog post topics today!
Blog Post Outline
Are you crafting a list-style or monetary post? Whether it's an instructional article or advice on being at the top of your game, the blog post outline template is a sophisticated artificial intelligence tool ideal for creating long form content. This innovative feature provides effortless outlines for creating engaging and educational blog posts. Get ready to produce compelling content – thanks to Jasper AI quickly.
Jasper AI Offer
Blog Post Intro Paragraph
Need help crafting a captivating introduction for your articles? This template can help you compose introductory paragraphs that will pique readers' curiosity and keep them thoroughly engaged. Quickly and easily create intros that make a lasting impact with this simple yet powerful tool.
Blog Post Conclusion Paragraph
Every author understands that the conclusion of their piece is critical – not only will it leave a lasting impression on your readers, but it will determine whether they choose to remember what you've written. A concise and persuasive closing statement can make all the difference in reader engagement and recall.
Creative Story
Captivate your readers with the perfect story crafted quickly and easily using this template! Whether you need to use it for marketing, social media posts, or even just a bit of fun in storytelling, from tragedies to triumphant endings – there's something here for everyone. So why wait?
Unleash your creativity today and write stories that will keep people hooked until the very last word!
Explain It To A Child
Are you looking to simplify complex topics for your audience? This remarkable artificial intelligence copywriting tool can help you straightforwardly explain complicated concepts.
If it's furnishing informational content about SEO or relating information on products, Jasper AI can help. With this fantastic program, even an elementary school child will comprehend and internalise what you're trying to say – that's how simple its rephrasing capabilities are!
Sentence Expander
Many of the most creative writers can find themselves in a slump where their words lack emotion and life. That's why sentence expanding is such an invaluable tool for authors.
Choosing different options helps inject extra length and depth into your sentences – giving them the spark they need! You can quickly boost the description with only one button click and add detail or other enrichments.
Create Social Media Captions
Need to craft an eye-catching caption on social media? Check out the copywriting templates that Jasper provides! You can quickly switch up your tone of voice and include hashtags, emojis and even GIFs to make your posts stand out from the crowd.
Whether it's an alluring hook or a humorous one-liner – get creative with these templates to effectively communicate your brand message.
Facebook Templates
Want to design stunning Facebook ads that have the power to draw viewers in?
If you're an online digital marketer, course creator or social media manager, these two templates should come in handy to create convertible copy.
Crafting a captivating headline and advertisement text that clearly illustrates to your target audience why your product or service is the best in its field will surely capture their attention as they scroll through their feed. You can quickly eliminate potential customers' doubts about your offering with persuasive writing.
Google Templates
These can create tremendous and dynamic topics for your business if you require Google Ads or new-and-improved Google My Business templates.
Google Ads Headline: Captivate attention and draw in viewers with magnetic headlines for your Google Ads to halt the scrolling of potential customers.
Google Ads Description: Ignite interest and compel potential leads to click on your ad with well-crafted descriptions!
Google My Business "What's New Post": Increase the visibility of your GMB listing with fresh blog posts and timely updates about your business.
GMB "Event Post": Want to spread the word about an upcoming event or sale? Use this template to craft a captivating post to draw attention and keep your GMB listing fresh!
GMB "Product Description": Pen compelling articles for your Google My Business profile that provide an in-depth look into the features and benefits of your products.
Amazon Templates
Did you know that Amazon has SEO features?
Jasper AI can write SEO-optimized content for your Amazon listings that will boost their search ranking and drive more of the right kind of traffic. If you're selling books, jewellery or electronic items, Jasper AI is the perfect tool for creating compelling product descriptions, titles and much more – helping to ensure you get maximum clicks!
Amazon Product Features
Showcase the best features of your Amazon products with these compelling bullet points:
Premium quality materials for maximum durability
Beautifully crafted designs to fit any décor
Easy-to-understand instructions and assembly tips
Fast, secure shipping directly from our factory floor
Satisfaction guaranteed or money back – no questions asked!
Amazon Product Description
Highlight your product's most vital attributes and address common customer questions in a series of informative paragraphs. By doing this, you can ensure that shoppers have access to all the information they need when purchasing. This will also help create trust between potential customers and your brand and reassure them that their investment is worthwhile.
Ridiculous Marketing Ideas
This template began as a lighthearted concept, but after numerous users requested it to be added back in, they decided to oblige. You never know when you'll have the requirement for an innovative marketing approach for a blog post or similar feature.
Jasper AI Testimonial Helper
Currently, in beta form, Jasper's Testimonial Helper can help you create rich and trustworthy testimonials with incredible speed. Simply provide the name of your desired testifier, and this tool will do the rest!
This cutting-edge technology expedites what used to be a lengthy process so that you don't have to wait around for results any longer.
YouTube Templates
Jasper AI's YouTube templates have become integral to my daily routine. These resources allow you to generate video descriptions, titles and tags that will help your videos get more views and expand the reach of your channel!
the You Tube templates you can use
Video Topic Ideas: Stand out from the crowd with unique video ideas.
Video Description: Create compelling and exciting descriptions for your videos using long-form assistant and boss mode. With these two powerful tools, you can easily craft content that will keep viewers engaged!
Video Script Outline: Leverage Jasper AI's integrated script writing feature to easily create suitable outlines specifically designed for listicle-style content, allowing you to craft your perfect story easily.
Video Titles: Create irresistible YouTube titles that will draw viewers in with just one click.
Video Script Hook And Introduction: Entice your viewers and let Jasper craft an introduction that captures the hearts of your audience. Jasper's boss mode is how to craft impeccable descriptions for your channel.
SEO templates
Do you need help optimising your website for SEO? Look no further than these AI-based templates! Jasper can help you craft captivating titles and descriptions to make your web pages and homepage stand out in searches.
Email Templates
If you're producing cold emails, a drip email series, or reaching out to potential leads, Jasper AI has the perfect templates for you! Create engaging and compelling personalised messages that will get prompt replies.
Email Subject Line: Crafting eye-catching mail subject lines can be the key to getting your emails to read. This tip works for all forms of outreach!
Quora Answers
Do you want to leverage Quora's platform for more web traffic? Its Answer feature can help make it happen faster.
Simply enter the question you'd like answered, and Jasper will generate a high-quality response without requiring extensive time investment on your part. With this tool, there's no need to stress over crafting the perfect answer—letting you tap into Quora's immense potential even if writing isn't one of your strengths!
Company Bio
If you're on either Linkedin or Facebook, use the company bio template to craft a captivating summary about your business.
This same template can also be used for an 'About Us' page on all your websites and blogs! I've found it particularly useful when creating one-of-a-kind bios that draw in customers from various channels – because, let's face it, everyone loves a good story.
Personal Bio
Crafting an exciting story about yourself can be daunting, but Jasper AI makes it effortless. If you're searching for ways to advertise your business and reveal more about yourself online, there isn't a better tool than Jasper AI! Utilise this personal bio template to create a captivating narrative for your blog or website. With its help, you'll be able to write attention-grabbing bios that everyone will find engaging.
Text Summarizer
Imagine capturing the essence of an entire article in only a few sentences. This dream is now a reality thanks to Jasper's text summariser tool! This terrific resource lets readers and writers quickly get key points from any lengthy piece without reading through its content. So what are you waiting for? Get your summary today with jasper's Text Summarizer Tool and experience its convenience!
Business Name Or Product
Need help to come up with a business name or an excellent product? Jasper can make it easy for you! Simply enter your keywords, and jasper will provide plenty of creative business names and product ideas ready to be implemented. This is the perfect place to start if you want to establish your own company or launch something new.
Engaging Questions
These questions will be helpful if you want to get people talking on social media or in person.
You can post them as comments on blog posts and status updates; they are surefire conversation starters! Here are a few examples:
What is the best job that you have ever had?
What fun activities do you enjoy doing most?
Where have been your favourite destinations so far?
And what book has made the biggest impression on you this past year alone?
By asking meaningful inquiries, a straightforward step allows us to break through any ice – and with Jasper's helpful feature, we don't need to feel hesitant at all!
Press Release Title And Info
Ready to put your company in the spotlight? Use the PR Template generator, Jasper, to craft a stunning press release title and content in minutes.
All you have to do is input website information where you're featured and your business name – then watch as an awesomely detailed PR piece takes form!
After that's done, switch to Boss Mode for a smooth submission process directly onto the website for publication. Become the talk of the town within moments by taking advantage of this simple yet powerful tool today!
Jasper Recipes
The Jasper Recipes community presents a wide selection of open-source templates for any project so that you can plan the perfect implementation! With these helpful outlines, anyone can take advantage of creative solutions built collaboratively by our network.
These recipes can be a great way to kickstart your new social media content projects, but only if you understand how to use them correctly. We've made it easy – all the recipes are organised into categories, and each comes with a description plus a link directly to the tutorial.
With Jasper Recipes, you can easily select the perfect recipe for your project in no time. From effortlessly forming a to-do list to crafting a long blog post, this impressive selection is sure to have just what you need! So go ahead and explore our recipes today–you won't be disappointed!
Here are a few recipe ideas:
Are you in need of content that converts? Look no further than our exceptional writing services, which include but are not limited to:
Cold Email Pitches,
Complete Blog Posts,
Facebook Ads copywriting,
Video Script Blueprinting,
Product Review Blog Post Creation
Press Releases.
Additionally, we offer professional Landing Page & Sales Page Copy and Listicles tailored for conversion optimisation!
Jasper AI + Surfer SEO Integration
In April 2021, Surfer SEO was upgraded with Jasper to provide more efficient and user-friendly optimisation for Google and Yahoo. Quickly optimise your website without any extra effort on your part!
It's been a pleasure to take advantage of the utility Surfer Search Engine Optimization offers over this past year, and it is an essential addition. It provides convenient integration through Jasper's Editor for effortless content production and allows you access to its wide range of powerful features.
For maximum optimisation of the subject, consider utilising Surfer's searchable page resources on the right-hand side. To accomplish this goal with optimal success, utilise both Surfer Search Engine Optimization and Jasper AI.
Jasper AI Alternatives
Copy AI – The #1 Alternative To Jasper AI
Copy AI leverages Open AI's advanced GPT-3 neural network to quickly and effortlessly generate a wide range of digital content, from sales copies to product descriptions. If you're looking for an alternative solution that can help grow your revenue and conversion rate, then Copy AI is a perfect choice; its unique capabilities enable businesses to produce top-quality copy in just seconds quickly!
Copy AI has already helped over 500K customers easily create specific content. It's effortless to use: choose the type of copy, provide a product description and get up to ten outcomes you can modify as desired. What's more – Copy AI also offers a free account which includes access to 90 tools and 100 complimentary credits!
Rytr – The #2 Alternative To Jasper AI
Rytr is the ideal alternative to Jasper AI for content marketers and entrepreneurs. It's one of the premier writing assistant & content generator tools available – quickly overcoming writer's block so you can churn out 10X more words than ever! Already, 800K individuals are taking advantage of this incredible time-saving tool to save themselves many hours of precious manual work.
Rytr is an easy-to-use tool that will make content creation a breeze. All you need to do is select your use case, provide the context of your writing, and let Rytr work its magic. With this helpful assistance, you'll be creating knockout pieces in no time while also streamlining your entire workflow process!
Writesonic — Reliable AI Writer
Writesonic stands out as an outstanding option when searching for a Jasper AI alternative. This tool can effortlessly generate one-of-a-kind copies in just seconds! What's more, the AI engine behind this platform is so advanced that it produces content akin to what would be written by a human expert. Moreover, with support for over 18 languages available, no matter your native tongue, you will have access to quality content generation.
Unleash your creativity with this AI writing assistant and craft high-end landing pages, posts, Facebook ads, Google Ads product descriptions, emails, and blog articles instantly — all without lifting a finger! With its advanced algorithm at work, it creates unique content for you each time.
All that's required of you is selecting a template and describing the product/service you are offering. Then click on generate button and watch in awe as it immediately launches into action – creating compelling pieces of content for you within seconds!
CopySmith — Suited for eCommerce AI Content
CopySmith is an innovative replacement to Jasper AI, which delivers unique content generation. It can provide you with remarkable sales copies, perfect for your business. Jasmin Wang built this tool and released it in October 2020 as a way of aiding other entrepreneurs like her to generate the necessary material for their businesses.
If you're looking for a cutting-edge content creator, look no further than CopySmith. Utilising the latest GPT-3 technology (third-generation Generative Pre-Trained Transformer), this revolutionary tool can generate posts for social media, ads, blogs, and product descriptions, among many other applications.
It offers various templates and allows users to determine the structure and tone of desired content – giving your creative projects an extra edge! So don't wait any longer; get started today with CopySmith's powerful AI capabilities!
ClosersCopy – Great For Advertisement Copy
ClosersCopy is the perfect choice for those with little to no experience writing advertisement copy. It enables you to craft unique sales copies within seconds, following Open AI's GPT-3 neural network and featuring an AI editor with drag & drop features – a far superior alternative to Jasper AI!
How does Jasper AI compare to other tools?
With the rise of AI writing software, there are plenty of alternatives to Jasper AI. I use the Jasper AI app as it's the best known and is driven by continuous innovation in its product.
Jasper stands out from other AI writing alternatives due to its ability to generate original content explicitly tailored to the user's needs. Jasper uses advanced Natural Language Generation (NLG) technology to produce high-quality content from structured data quickly.
Jasper's user interface is designed with intuitive navigation and simple controls, making it easy for users to get the most out of their Jasper experience. Jasper also offers a range of customisation options so users can personalise their content to match their desired tone and style perfectly.
Jasper makes creating professional and engaging content that makes a lasting impression easy. With Jasper, users can quickly create original content tailored specifically to them. Therefore, Jasper is the perfect AI writing assistant for professionals who value efficiency and high-quality content.
Jasper AI Case Study Personal Experience
I started my career as a copywriter, and having used Jasper AI for over a year now; I believe that Jasper AI is the best AI copywriting tool on the market today. I use it daily in a Business to Business (B2B) corporate environment and as a writing tool for this blog.
The templates available allow me and my team to craft copy to create blog posts, social media taglines, headline ideas, website copy and more.
I have been impressed by Jasper's ability to construct technical and niche long-form content regardless of the subject matter. I only recently used Jasper AI to build a 2000-word article, and it coped with the task admirably.
Now, I'm not going to paint such a rosy picture that it's perfect in its output. It still requires human input, and Grammarly will make numerous suggestions to correct grammar and sentence structure.
However, if you turn back the clock to just a couple of years ago, such content could only be written by experienced writers. Jasper AI allows anyone to create long-form content and snappy headlines that are high quality and relevant.
Jasper Art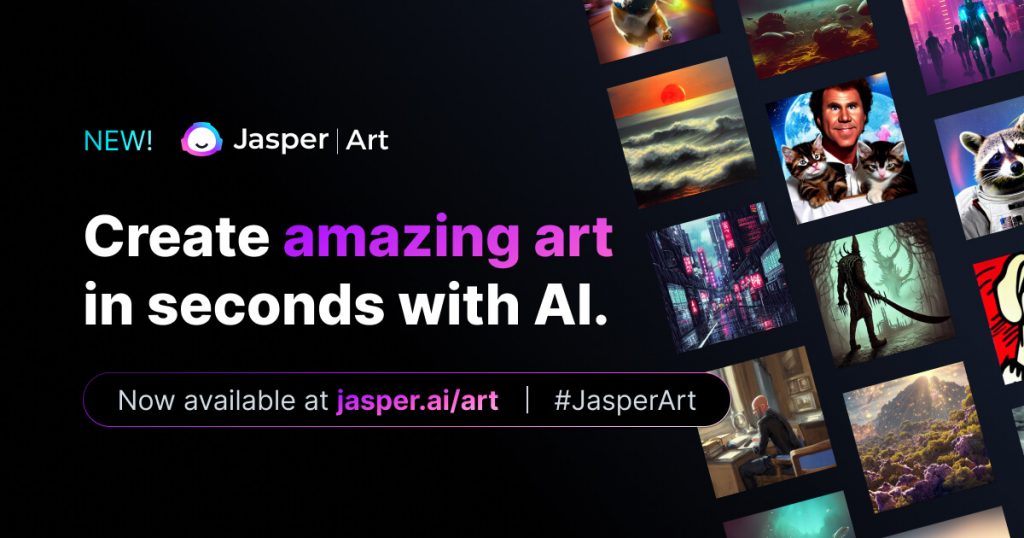 In 2022, Jasper AI introduced a method of turning ideas into ideas within a single click. Jasper Art accompanies your blog articles or other content with the best picture that matches your message quickly and without hassle.
Jasper Art is a software tool designed to generate artificial images and allows you to create unique art in only a moment.
Visit the Jasper Arts website for a complete overview of Jasper Arts's offerings.
Jasper Training
Jasper AI Training is a comprehensive program for organisations looking to get the most out of their artificial intelligence and machine learning (ML) investments. The training offers an in-depth look at the latest AI and ML technologies, strategies for successful implementations, best practices for data management, and more.
With Jasper AI Training, businesses can be sure that their teams are well-equipped to take full advantage of the power of AI.
Jasper AI Bootcamp,
The purpose of the Jasper AI Bootcamp is to give users a comprehensive guide on utilising Jasper effectively. Dedicating yourself and adhering carefully to each lesson will provide you with the skills necessary for crafting unique content quickly with Jasper.
Jasper is evolving at an astounding rate; thus, the Bootcamp will constantly be updated.
Accuracy
Content accuracy is likely a significant complaint I hear about AI-generated content.
AI-generated content is a vital issue, and its accuracy is crucial. In other words, if you write a blog about survival knives and discover that you have kitchen knives in your hand, your visitors will likely need clarification.
Jasper Support
The Jasper team are based in Austin, Texas and provides email support with a promise to respond in 4 – 8 hours. You can also access the online knowledge centre and the user community that offers Jasper AI support. The Jasper team is still fairly small, but they may consider offering additional ways to contact support as the company evolves.
Conclusion: Should You Buy Jasper AI?
In this Jasper AI review, we've examined how Jasper can generate AI content. Overall, Jasper Artificial Intelligence products offer a great investment opportunity for anyone seeking the flexibility of outsourcing their content.
The services offered will help you make a good copy with minimal errors while decreasing the chances of someone making any error in writing. Jasper AI provides dozens of free content templates and helps you with content creation and marketing for websites and other sites. Jasper generates 99% original content free of plagiarism using AI-based software.
Plus, with the Jasper AI offer of the first 10,000 words for free, It's ideal for learning the basics.
FAQ
Is Jasper AI worth the money?
Overall, it's an excellent investment for people who want to minimise the cost of outsourcing. It helps to make a good copy with minimal errors while minimising the chances of writing mistakes.
Which is better, Copy AI or Jasper.ai?
Jasper AI is your best choice for creating a flexible and effective website with minimal effort.
Is Jasper a good tool?
Even the cheapest plans are relatively inexpensive. The short copy is excellent. Using Jasper's powerful text editor, Jasper is a very effective solution for all types of content.
Is Jasper AI worth it?
It offers many different content writing options and excellent support videos to learn, and they are incredibly user-friendly. Jasper is robust and comprehensive AI assistant, making it a great platform, even if you're starting with a blank page!