How To Create A Marketing Funnel
Ah, the marketing funnel. It's the thing that marketers can't stop talking about, and customers need help understanding what it is and why they should care. In this blog, I'll share the key elements to creating a marketing funnel, different types, and how to retain customers.
Let's shed some light on this very important topic!
What Is A Marketing Funnel?
At its core, the marketing funnel is a process of converting prospects into customers. It is an organised way to identify and target potential customers, nurture them with content and resources, and then convert them into paying customers.
Marketing funnels are used in many different industries and come in many shapes or sizes depending on the needs of your business.
The marketing funnel concept is a marketing strategy marketers use to attract as many leads as possible and then gradually nurture prospective customers through suitable schemes to the eventual conversion point.
How To Create a Marketing Funnel
Crafting a Marketing Funnel doesn't have to be difficult. Make it easy by following these six simple steps:
1. Uncover Your Target Market
Understand the profile of your target audience. What are their preferences, needs, and desires? When you understand the specifics of your customers will assist in tailoring the remaining parts of your marketing funnel. Knowing what motivates them helps you identify areas for improvement and drive new sales opportunities.
2. Generate Content
Content serves as the backbone of your Marketing Funnel and can be deployed to captivate future customers with your product or service. Make sure it's fresh, engaging, and informative!
3. Generate Leads
Using lead magnets, such as an enticing free trial, discounted product or webinar can help you attract the perfect target audience and capture important leads. Make sure your offer is worthwhile for those who are interested!
4. Unleash your Marketing Funnel
Spread the word about your lead magnets and content on social media, via email campaigns and other digital marketing platforms. Plus, you can employ classic methods such as print advertising or even rely upon traditional word-of-mouth.
5. Strengthen connections
Lead nurturing is an integral element of the Marketing Funnel. Strategically deploy automated messages and other forms of outreach to foster relationships with prospective clients, keep them informed about your product or service, and create lasting impressions.
6. Transform leads into clients
After following the steps outlined above, it's time to transform your prospects into customers. This can be achieved through tailored emails, follow-up calls, customised offers and more.
While funnels are designed to illustrate a customer's journey throughout their purchase, they often need to account for the meandering paths customers take when making decisions. After all, who can say that their purchasing process was linear?
Start by identifying and analysing your customers' stages before investing in your product/service. By doing this, you can tailor content and opportunities better so that each customer has a unique journey towards conversion!
Benefits of Creating a Marketing Funnel
Creating a marketing funnel can provide several benefits for businesses. Firstly, it helps to identify and target potential customers that are the most likely to convert. Secondly, it provides an organised process for nurturing prospects through their buying journey. Finally, it allows marketers to track the effectiveness of their campaigns across each stage of the funnel.
It also helps to build credibility and trust with potential customers by providing them with the information they need to make an informed decision. Marketing funnels are a great way to ensure that your prospects have all of the information they need before making a purchase, thus increasing conversion rates.
Types of Marketing Funnels
Funnel marketing has the capacity to tailor its goals and target specific audiences. For example, digital marketing funnels are built for online activities – no offline strategies included! Content channelling further amplifies this experience by allowing users to interact with content intuitively tailored to them.
The Sales Funnel
Commercially, funnels derive from the probability of sales and opportunity gradually decreasing at each step. Some people opt out, some lose interest, and some choose another method of purchase.
Entrepreneurs, marketing organisations and marketing departments within larger companies should have a funnel.
The AIDA Funnel
AIDA has been around for a long time, as early as the 1890s, when it was seen as a revolutionary and proactive marketing formula for attracting customers.
By harnessing the power of AIDA to recall the sales funnel stages and create tailored content for each stage, you can achieve the same objectives as using the traditional sales funnel framework.
When a customer begins the sales journey, they will go through steps similar to what follows.
AIDA Example
Awareness
Our target audience people like Charlie. He's educated, middle class, brand loyal and has loved cars all his life.
He's now at a point where he can buy the car of his dreams. And whilst reading the Sunday papers one summer's day, he comes across a review about a new Porsche.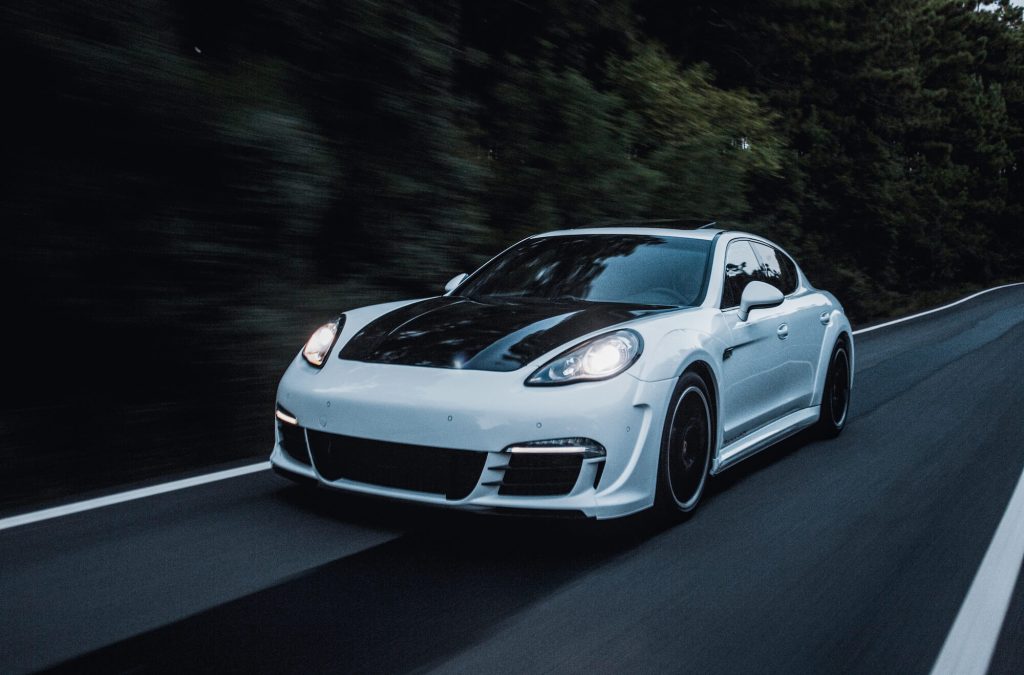 The article is full of praise for the german powerhorse, with its handling, power and road presence.
Interest
With a spark of interest – he starts researching Google for more information. The following morning, he calls his local Porsche dealer and arrange a test drive.
Desire
On his visit to the dealer, the beauty of the car takes him aback. The salesman plays his part dutifully, expressing the wonders of the fine automobile. Sensing our gent's interest and desire to learn more, he hands the keys to the prospective customer and says, "Why don't you take this beauty for a spin?"
Action
After the test drive, our prospective customer decides it's just what he has been looking for. He takes action and places an order.
Digital Funnels
Similar to the classic model of AIDA, a digital funnel used online can be constructed similarly. However, with the age of technology, there are more automated systems and tools to help the seller and the buyer on their journey. This sort of funnel process is usually termed as a Conversion Funnel. So, taking our AIDA model, let's look at the steps involved with a digital funnel.
Digital Funnel Design
Source: https://www.flickr.com/photos/eric-delcroix/21438701322
Optimising The Funnel
To improve your marketing funnel's success and increase the number of potential leads at each stage of the process, it's important to optimise your funnel. The easiest way to start thinking about your sales funnel optimisation is by breaking it down into the major measures – Upper, Middle and Lower.
• The function of the upper funnel is to attract new visitors.
• The middle funnel is responsible for turning new visitors into qualified leads.
• The lower funnel is where the macro conversions, or purchases, happen.
Each part of the conversion funnel should be approached differently; therefore, different marketing methods are employed.
TOP OF FUNNEL (TOF)
The traffic you're sending to your online store will largely determine the effectiveness of your conversion route. Focusing on driving quality traffic is the first step to optimising the upper funnel and there are various methods you can test:
• Optimising your keywords for paid search and display ads
• Correct targeting of your social media ads (Facebook, Instagram, LinkedIn)
• Creating unique, keyword-optimised content (blog posts, eBooks, guides, infographics, videos, etc.)
MIDDLE OF The FUNNEL (MOF)
Potential customers enter this middle funnel once they engage the brand meaningfully. This part of the marketing funnel is all about building trust with your prospects and demonstrating the benefits of your products.
Now that you have your potential customer's interest, it's time to build trust and loyalty, demonstrating your product's or service's quality.
Engaging your audience with the following helps build that trust:
• Testimonials
• Product Reviews
• Case Studies
• Automated Marketing Campaigns
• Engaging Content
Running continuous A/B Tests (the comparison between two separate campaigns/ads) will provide you with essential feedback to track key metrics.
BOTTOM OF FUNNEL (BOF)
As leads drip down into the last stage, you need to start pulling them into new conversion funnels.
The more customer data you have, the more personalised and targeted experiences you can craft to keep them interested and wanting more.
Once a lead has converted, pull it back into the nurturing phase and continue building rapport through targeted offers and email campaigns.
Social Media Funnels
A social media sales funnel guides your followers, taking them from the moment they first learn about your product on social media to becoming dedicated customers. It's an effective tool that encourages repeat purchases and builds brand loyalty.
The social media sales funnel consists of four distinct stages:
Awareness/discovery
Intent
Conversion
Loyalty
To effectively leverage conversions and nurture customer loyalty, it's essential that you create content tailored to each stage of the buyer journey.
When you craft a well-thought-out social media marketing scheme and provide content of value, users will be more likely to engage with it by liking, commenting on, or sharing your posts.
By interacting with a brand hashtag campaign or viewing your ads, potential customers will be able to identify and connect with you easily. This opens the door of opportunity for your business as you can focus on those who are genuinely interested in what you have to offer – giving them a chance to become lifelong customers.
With a typical social media funnel, as seen above, we are only seeing half the journey for customers. Much like a traditional funnel, it stops at the point of sale. But, in the modern age, that is only half the journey.
The template of AIDA has not become defunct – it just needs to evolve!
Bow Tie Funnels
We have already looked at the first stage of the funnel through the AIDA model; let's now look at the retention side through the marketing funnel, known as the Bow Tie Funnel.
With the bow tie marketing funnel, businesses can ensure customers remain engaged and loyal to their brand. Not only does this approach foster customer trust, but it also creates an army of devoted followers who will become vocal advocates for the company.
This method focuses on building strong relationships over a long period of time so that customers are immersed in your brand's world.
You will reap the rewards of your hard work from a prior stage in this advocacy phase. Fostering customer satisfaction ensures that they remain loyal to you.
Take pride in what you do, and showcase how effortless it is for customers to interact with your business, knowing that this is just another proactive step in the marketing mix to raise awareness about your product/service – and your reputation.
The Evangelists
By cultivating strong relationships with existing customers, you maximise the possibility of customers returning and recommending your business to their peers.
A typical example would be musicians who use Marshall amplifiers. The reputation of this brand is huge. Used by performers globally, these stalwarts play a significant part in brand awareness for the company.
Creating customer journeys is achievable through loyalty and referral programs. These helpful schemes motivate consumers to repeat purchases while spreading positive word-of-mouth about your business.
However, it's important to note that not all companies can benefit from such initiatives; offering excellent aftercare services and customer support post-purchase are also essential components in building lasting relationships with clients.
Adopter
The first level is recognising the customer who has just purchased. This is a brand new purchaser, so it's important to make them feel confident and encourage them to remain loyal on their way to becoming a Brand Ambassador.
The simplest way is to offer a bonus reward, a discount off the next purchase or perhaps an invitation to a VIP area that's related to the product. Think creatively and consider how you would want to be rewarded in a similar manner.
At this stage, use the purchase as a springboard to gather further customer information through email or a follow up call. Apply this information across the entire funnel.
The Loyalist
The following stage of retention in the funnel is the Loyalist.
This generally refers to one of the following:
A customer who upgraded their purchase at checkout
Repeat Customers
The difference between an Adopter and a Loyalist is that the former may have made an impulse purchase, while the latter instinctively chose to buy from you.
To convert an Adopter to a Loyalist, ensure that your message (marketing) connects with the Loyalist. Offer incentives to buy related products or offers for a repeat purchase. Consider how you can recommend incentives such as offering tier pricing to maintain their path along the funnel.
The Advocate
The Advocate is a satisfied customer who has bought from you and likes the product or service you offer.
This is the customer who will start using their social influence through online platforms such as reviews, testimonials, social media or word of mouth to recommend potential customers to your products or services actively.
To keep them on side and engaged, entice them with incentives. These could be:
Membership of a VIP club with personal referrals
Access to new products in exchange for reviews
This sort of advocacy is worth its weight in gold. It's extremely cost-effective, and most importantly, it's coming from a neutral and trusted source.
Ideally, you want advocates of your brand to encourage other customers to become advocates, so use further incentives.
Make Advocates Feel Special
Reply to their tweets, share their positive posts on Facebook, and answer them with a personalised response if they connect through email. The quickest way to lose an Advocate is to make them feel like one of the masses. Treasure them!
The Brand Ambassador
These are the company's friends! They are emotionally connected to your brand (think Apple or Jeep) – they tell their friends and colleagues how happy they are and are passionate about their relationship with you.
Enhancing the customer experience for this group is a key tactic to use in your marketing funnel stages. Loyal customers that help market your brand is a social-proof strategy that should be wholly embraced, as it will provide a budget-crunching and formidable ROI.
For small businesses, the personal touch such as a handwritten message will let them know how special they are to you.
Acknowledgements to offer include:
Free overnight shipping
Gifts for Birthdays and/or Christmas
The Art of Retention
Customer lifetime retention is nothing new – it's been around for a long time. However, there are many examples of companies throughout history who, for one reason or another, decided that, after a while, they would change their systems or the way they recognised key customers. They essentially took them for granted.
Part of this problem arose because companies tend to budget for something other than advocates or brand ambassadors. They assume that because their customers are on board, they will be, for a while, asking themselves why they should waste time and money keeping happy customers happy.
Financial institutions, utility companies, insurance brokers and the automotive industry would benefit more if they put more energy into customer retention.
On average, you can fail a loyal customer a couple of times. After that, they will start falling off the radar and consider switching to a competitor. And guess what? They will make a point of telling everyone they know!
Conclusion
Overall, marketing funnels can be a powerful tool for businesses to convert prospects into customers. They provide an organised process for targeting and nurturing potential customers while providing the resources they need to make an informed purchase decision. If you want to increase your conversion rate, creating a marketing funnel is worth considering!